Western society is fast paced and frenetic. According to Aryuvedic philosophy, our culture has a Vata imbalance, an over abundance of quick energy which has become ungrounded. As a business owner and single-mother, I've grown accustomed to long commutes, eating lunch at my desk while checking e-mails, plugging into my computer for hours at a time, talking on a cell phone and planning for my son's school activities. It wasn't until I became exhausted that I started to consider that my obsession with goals and tasks had created an imbalance, not only in my life but in my body. When I saw a class called Relax and Renew at Equinox, I intuitively knew I needed to go.  There, I met Colleen Carroll, Yoga Therapist and founder of Sound Yoga Studio. Even though slowing down was difficult for me, Colleen's exuded a deep serenity. Her compassionate energy was warm and supportive as she adjusted my alignment with uncanny sensitivity. As we moved through a series of restorative asanas (poses), I steadily felt the winds of my mind grow calm and my body gently open like a lotus flower.  As I studied with her over time, I learned techniques to quiet obsessive thoughts and to release stress.
Eventually, Colleen and I became friends, both personally and professionally.  As I got to know her, I found her private Yoga Therapy practice, Sound Yoga Studio, intriguing. Many of Colleen's students had Parkinson's and other neurological disorders, which can cause paralysis, stiffness and uncontrollable tremors, a considerable challenge for both the student and the yoga teacher. The National Institute of Neurological Disorders and Strokes reports that:  "In the United States, at least 500,000 people are believed to suffer from Parkinson's disease, and about 50,000 new cases are reported annually. These figures are expected to increase as the average age of the population increases. The disorder appears to be slightly more common in men than women. The average age of onset is about 60. Both prevalence and incidence increase with advancing age; the rates are very low in people under 40 and rise among people in their 70s and 80s. Parkinson's disease is found all over the world."  And before you start thinking Parkinson's is a disease that strikes only older people, out of  1.5 million Americans affected by Parkinson's disease, as many as 225,000 people diagnosed are under age 50.
It turned out that Colleen was part of a burgeoning movement to apply Neuro-Yoga Therapy to people affected by Parkinson's disease. Although yoga has been applied therapeutically in India for thousands of years, it is a relatively new treatment modality in the West and Colleen works on the very edge of that frontier. Colleen applies yoga to neurological conditions with the mindset of a scientist and the loving acceptance of a healer. I have watched her work with patience and determination on an array of challenges many yoga teachers would find daunting.  I am continually in awe at Colleen's spirit and commitment to her work and students.  She embodies yogic knowledge, spiritual integrity and compassion in assisting others through Yoga Therapy and Sound Healing. Colleen's healing effect in my own life and continuing commitment to Yoga Therapy inspired me to interview her about how she came to specialize in this niche and what she has discovered along the way.
ST: As a Yoga Therapist, you've designed a yoga practice that aids people who suffer from neurological disorders, particularly Parkinson's disease.  Can you please briefly explain what Parkinson's disease and the differences in severity. What are some of the symptoms that arise from this condition?
CC: Parkinson's results from the degeneration of dopamine-producing nerve cells in the brainstem. Dopamine is a neurotransmitter that stimulates motor neurons, which are nerve cells that control the muscles. When dopamine production is depleted, the motor system nerves are unable to control movement and coordination. So, simply put, Parkinson's is a nervous system condition that affects muscles and movement. The symptoms vary from muscle rigidity, several kinds of tremors, and challenges to balance and gait. There can also be non-movement symptoms such as sleep disturbances, depression, anxiety, and vocal weakness. All these vary in severity depending on the person's individual constitution, and how much they move, exercise, or practice relaxation and mindfulness.
ST: You've been a yoga instructor for many years, what or who prompted you to specialize your practice in working with Parkinson's patients?
CC:  I have taught Yoga since the mid 90's and practiced many styles my whole adult life, so when I decided to leave the music business, (I was a professional flutist) I knew that some form of healing Yoga would be a good fit for me. Having seen many Yoga related injuries and been injured myself, I wanted to find a certification and training that focused on the therapeutic aspects of the postures as well as the psychology of Yoga.  Choosing Dr. Larry Payne's program at Loyola Marymount University was a pivotal moment. After graduating there, I met Paulette Dwyer, then director of YogaWorks in Westlake Village.  She asked me to speak at a support group for Young Onset Parkinson's. My research began there and continues to this day. YogaWorks  is still supporting my flagship Neuro-Therapeutic class, and I'm very grateful.
ST:  What have been your three greatest joys in assisting people through your Yoga Therapy practice?
CC: This is a challenging question to answer because Yoga provides so many solutions for those with PD. Mastering the breath, then synchronizing breath and movement, anything is possible.  One student shared a moment in the grocery store, when he needed something all the way across the room, but hadn't taken his medications so he didn't think his legs would cooperate. He took a deep breath, visualized himself walking across the space, and did it! When I see the students walk into class with difficulty, then walk out straight and tall, smiling and puffing up their chests, I feel much joy. Many of them say they hear my voice saying, "Strong thighs!" before standing upright. My faith in the practice is constantly renewed when they tell me how they maneuver their challenges by breathing mindfully and using their Yoga for focus and wellness.
ST: Based on your wealth of knowledge regarding Yoga and Parkinson's disease, what advice can you provide someone who has recently been diagnosed with a neurological disorder like Parkinson's?
CC:  From a Yoga perspective, I would say find a gentle Yoga class, tell the teacher you have PD, and begin to discover your breath and how it fuels every thought and movement. If Yoga is not available, or if it is not your chosen form of exercise, then walk, cycle, and stretch. It is very important to prevent the trunk from becoming rigid, so increasing your heart rate and breathing deeply as a result of sustained exercise allows the ribcage to expand and stay flexible. Walking is the perfect exercise for the brain because both sides of the brain are in use – left foot strides forward, while the right arm swings forward. If you are unsure about walking, march in place with your hands on the back of a chair to maintain your stability. Additionally, anyone with PD should ask their physician to prescribe physical therapy. Any one- on-one instruction about body mechanics and simple exercises for stability and strength will be very helpful. Throughout the day, pause and take ten breaths. As long as you breathe and pay attention, it's all Yoga!
ST: From your experience, both personally and professionally, how do you see Therapeutic yoga being used as a complimentary healing modality in conjunction with conventional Western medicine in the treatment of Parkinson's?
CC: Great question! The medications necessary for treatment will be much more effective if the patient is exercising therapeutically. In the short run, improved circulation allows for better absorption of the medication(s) into the bloodstream, as well as increased oxygen to the brain. In the long run, studies show that exercise is more effective than medication for slowing the progression of movement disorders. You simply cannot just take the medication and skip the exercise. In my professional opinion, Yoga when safely adapted for the individual is the best exercise – start now!
ST:  For those who doubt the science behind the practice of Yoga Therapy in support of Parkinson's disease, what message would you offer them?
CC:  We know that stress is harmful to the body, and any dis-ease in the body causes ongoing stress. Exhausted adrenals cause a negative chain reaction of hormonal, circulatory and neural dysfunction, and these must be addressed so the body does not break down all together. Yoga calms and balances the nervous system so that a positive chain reaction toward relaxation and healthy sleep can occur. Each asana (pose) is specifically designed to gently massage and stimulate various organs that are crucial to proper functioning of all the systems of the body. By triggering the relaxation response in the body, the nervous system is reset for optimum health.
ST:  How do you suggest we begin to introduce the science of Yoga Therapy into the medical community as it deals with the growing cases of Parkinson's and other related neurological disorders?  Which conduit would work best to share Yoga Therapy from a holistic perspective?
CC:  There has been much progress in recent years with physicians recommending Yoga for all kinds of conditions. The next frontier would be for health care practitioners to tell patients that not all Yoga is alike, and that some styles of Yoga may not be right for certain people and can actually cause injury.  A neurologist, recommending Yoga for a Parkinson's patient, should recommend very gentle introductory classes, or hopefully have a Yoga Therapist or teacher to refer. I think the best conduit would be to search for a Yoga Therapist via the International Association of Yoga Therapists, or IAYT (http://www.iayt.org.) Yoga Alliance (http://yogaalliance.org//) is also a great resource.
Images by Rich Schmitt Photography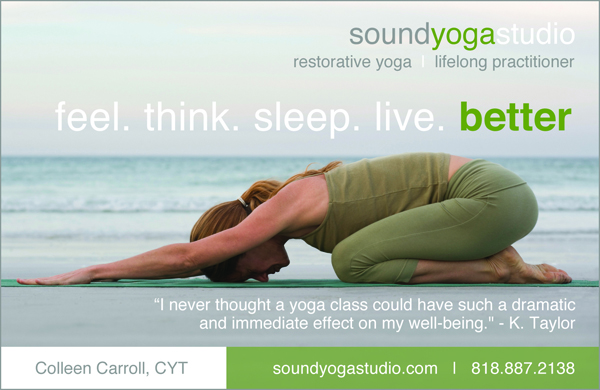 A lifelong Yoga practitioner and dedicated teacher. Colleen draws on her expertise as a professional musician to provide sound therapeutic instruction, accompanied by unique musical selections and healing sounds. Colleen received her Yoga Teacher Training Certification from Samata International Yoga with Dr. Larry Payne, and Yoga Therapy Rx Certification from Loyola Marymount University.
Colleen works with private clients and conducts public classes at Kaiser Permanente ,Westlake Yogaworks and Equinox.  She is available for private sessions, workshops and speaking engagements.  To contact Colleen please visit her website at:  http://www.soundyogastudio.com