Dance is rooted in ritual. Whether to appease gods and goddesses or accompany a rite of passage, dance is a natural human expression conveyed individually or collectively.  At Egyptian funerals, women dance to express grief. In shamanic traditions, dance is a means of contacting the spirit realm.
In the 8th century BC, Greeks inaugurated the Olympic games with sacred dances performed by temple virgins to honor the gods— the modern Choros was originally such a dance. In the 6th century, dance became a centerpiece of Greek Theater.
The formalized hand movements of Indian priestesses in Hindu temples are described in documents as early as the 1st century AD. Each precise gesture is of subtle significance. This gave birth to Bharata Nhatyam, a form of classical dance based upon these hand movements. Today, it is still performed by highly skilled practitioners.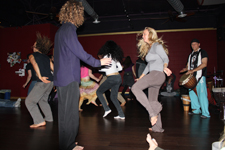 I have always watched and enjoyed dance as entertainment, finding the movements interesting. Growing up, I was ingrained with the fallacy that there was a RIGHT way and a WRONG way to dance.
Back in the day, I was less constrained, but still fearful of making "a fool" of myself on the dance floor. There was a brief time in my twenties, where I enjoyed the heightened atmosphere, frantic dancing, pounding rhythms and flowing alcohol of the club scene, but eventually I set dancing aside, reserving it for those proficient at performing its intricacies.
I have to admit that when I did freely "let myself go" through dance, the pulsations of my body and the racing of my heart induced a mood of frenzied exhilaration.
It was the closest I've ever come to ecstatic dance.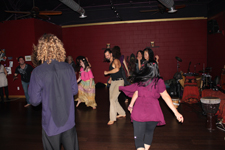 Dance as Ecstasy
I arrived at the "Celebration of Love & Light," held at Bhakti Yoga Shala, a yoga studio in Santa Monica, armed only with a flyer and a hazy memory of dancing in the club scene.
Co-coordinated by musicians Gabriel Logan Braun, Olaf Hartman and the Mystic Vibe Tribe, the event was described as a blend of "live instruments and DJ music with sound healing vibes," and "a time to celebrate your divine dance through movement, breath and sound. Dive into your sacred and eternal essence and feel your aliveness dancing you!"
Feel your aliveness dancing you? That sounded pretty good.
When I arrived, the room was buzzing with people. The musicians were on the low platform that served as a stage, setting up their instruments. The band members consisted of Gabriel Logan Braun , playing world flutes and didgeridoo, along with Olaf Hartmann on Crystal Bowls, Christo Pellani on Percussion and Drums, Masood Ali Khan on Hang Drum and  Katyanna Anita Zoroghlian on Vocals and dulcimer.
As the room filled up, there was a mix of ages. It started to get hot. After Gabriel and Olaf welcomed everyone, they explained that the night would be a celebration of love and light and that we should let the energy flow through us freely. The DJ began a pulsating beat and the musicians took up their instruments. World grooves and organic notes intertwined to create a surreal effect.  It was intoxicating.
Once the music began, there was a range of movement. Some people were sitting and swaying, others were more ecstatic. Everyone connected with the music in a different way. You could see it on their faces, in their body language. It was a private experience and collective at the same time. Whether it was a nod, hips moving or a whirling motion, the people were all connected by the sound. No one was concerned about how they appeared. They were experiencing freedom. My body moved in a way I was not aware it could move. I thought, "these are my hips, these are my hands." I was uninhibited and it felt good. I followed the chanting.  Each word rang true and strong. I danced and sang through a sea of flowing bodies.  It was an easy form of intoxication. I felt an inner divinity. With each song, the intensity and trance-like release in the dancers increased.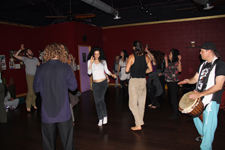 Towards the end of the evening, the percussionist moved around us, the vibration of his drum penetrated our bodies. People were jumping up and down. In a spontaneous wave, everyone lifted Gabriel in the air and moved him in a circle, then lowered him down. People began a wild dance around him. We were jumping together in rhythm, tribal, sweaty, our egos completely abandoned like a Dionysion Dance, of ancient Greece (albeit without the drunkenness of course). It proved to be wildly entertaining evening.
This was one of the most exhilarating musical events I've ever attended (and I was totally sober for this one!)
The next "Celebration of Love & Light," will be held at Bhakti Yoga Shala on March 19, 2011 at 8pm. For more information visit the special events page at the Shala!
The Mystic Vibe Tribe is available to perform at events and functions.  I highly recommend them for your future events.
For more information to schedule a performance or for future events, please contact Gabriel or Olaf at their respective contact information below.
Gabriel Logan Braun: phone: (310) 560-9838 or by e-mail at: RadiantAwakeningGabriel@gmail.com
Olaf Hartman: phone: (310) 447-8344 or by e-mail at: potentizinglife@gmail.com
Until I write again, I wish you peace, love and joy!
Kat Stimac is a photographer and yogi who specializes in detailed photographs of Flora and Fauna,  landscapes, sky-scapes and textures. Kat applies the mindfulness of meditation to her photographic technique, capturing wildlife in unguarded moments of stillness or repose, stunning moments in time or breathtaking vistas to create a state of transcendence in the viewer.
Sony Trieu is a Yoga teacher and Thai Yoga Therapist, who specializes in Vinyasa, Yin and Restorative style classes and the application of ancient healing techniques. Sony is passionately committed to exploring and sharing healing modalities through her work and writing.