I was checking my Facebook account one morning, when I stumbled onto some incredible headstand pictures. The yogi in perfect balance was named Ricky Tran and his surname instantly connected us. Ricky and I shared a cultural history — we're both of Southeast Asian descent, specifically Vietnamese.
A Vietnamese Yogi? From my personal and academic experience (I minored in Asian American studies as an undergraduate) it's rare and uncommon for our "peeps," to boldly take a career path teaching Yoga.  Why? Because my culture tends to emphasize security. How are you going to survive?  That was the implied question behind the sighs and raised eyebrows whenever I dared to share my passion for teaching yoga or practicing Thai Yoga Therapy. Typically, our Vietnamese brothers and sisters are encouraged to take career paths which provide greater financial stability.  Employment in finance, business, engineering, the sciences and high tech sectors tend to be the preferred path.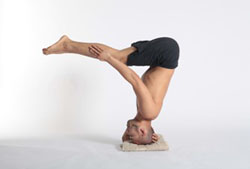 Trusting in my yogic senses, I felt a rebellious connection to Ricky. Even though he was based in Dallas, Texas and I was in Los Angeles, California, I took a leap of faith and sent him a message through Facebook, commenting on his breathtaking arm balances and headstand pictures.  From there, we sparked a connection.
Ricky's life paralleled my own family's experience.  We both had a similar "cross-cultural story of survival, reinvention and the transformational power of yoga."  Ricky's family was split by their emigration to the United States from war-torn Vietnam in 1979, then reunited in Dallas, TX in 1989. Due to the fall of Saigon, my family immigrated to the United States in 1972 and by 1978 had made Los Angeles, California our permanent home. Both Ricky and I were drawn to yoga and we had both become teachers. When I discovered Ricky was coming to Los Angeles to teach The Goal of Yoga: Samadhi and Eternal Joy at The Yoga Collective on June 10th, 11th and 12th, I knew I wanted to go.   What were the odds?  The universe does work in wondrous ways!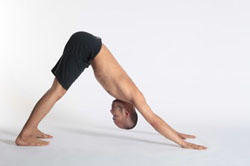 In anticipation of Ricky's workshops, I asked a few questions to get further insight about his teaching philosophy. Ricky completed a Yoga Alliance recognized training at Loyola Marymount University in Los Angeles with Srivatsa Ramaswami, and continues to study with yoga masters such as David Williams, David Swenson, Sri Dharma Mittra, The Amazing Kumar Pallana and others.
ST: You continue to study both Ashtanga Vinyasa with David Williams and Vinyasa Krama with Srivatsa Ramaswami— who or what inspired you to begin your yoga journey?
RT: In 2005, I discovered the transformational power of yoga by chance. I was recovering from an addiction and decided to make a New Year's resolution to live a healthier lifestyle.  However, I did not want to go through the gym route. I tried a local yoga studio and was instantly hooked. The more I learned about yoga, the more I wanted to know. Pretty soon, I was like a moth being drawn toward a flame in the dark.  My curiosity grew and with some research, I wanted to study with the "Grandfather of  Modern Yoga", T. Krishnamacharya.Unfortunately, Krishnamacharya left us in 1989.   The next best options were to study with his direct students or student's students.  This led me to study with Iyengar and Ashtanga Yogis. Then a yogi friend advised me to research Srivatsa Ramawami.  When I discovered he had studied directly under Krishnamacharya longer than any of his other disciples, I set the intention to do whatever it took to sit before him and learn as much as possible. What inspired me to further my studies with Ramaswami was my desire to receive the information directly from the horse's mouth.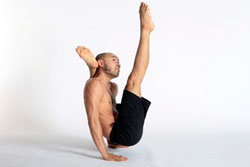 ST:  Having had the privilege of studying personally with Srivatsa Ramaswami (SR), what is your most memorable moment?
RT:  There were so many beautiful moments with SR, but the most memorable moment was the day I received my yoga teaching certificate. It was an emotional moment as I received my paper and SR sat there reminiscing about his guru. Boxes of tissue were passed among the tearful graduates and visitors in the room.
ST: What is your personal philosophy as a teacher and how do you translate your philosophy through your teaching style?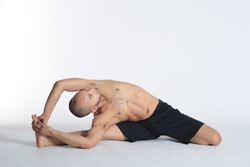 RT: My personal philosophy is really simple. I come from the school of KISS (Keep It Simple and Stupid). For most of us, the first stage in yoga is therapy or good health (pain reduction). The second stage is cheap thrills (arm balances and inversions). If it feels good, you're doing it right. If it hurts, you're doing it wrong. If you're having fun, you're doing it right. If you're not having fun, you're doing it wrong. The yogic journey is one of a thousand miles.  It begins with a single step, and each time you roll out your mat, you're taking one step. Some days, you feel light and open. Some days, you feel heavy and tight, but every day you do the yoga and "All is Coming!"
Based on my studies with Ramaswami , I believe the goal of yoga is to reduce suffering, which is caused by wrong knowledge [of the Self]. This wrong knowledge (avidya) is destroyed by constant discrimination (viveka khyaati) between the real Self and the non-Self, and this is established by Ashtanga yoga (The 8 Limbs) which rests on the foundation of the yama and niyama.My personal teaching style is fun and progressive.  I take into account the setting in which the teachings are delivered and the temperament of the student body. Sometimes the class is a powerful Ashtanga or Power Yoga style class, full of challenging bends, folds, balances and inversions and "Vinyasas". Sometimes, the energy is gentler and the sequence is therapeutic. The first thing I notice in my students is their breathing.  Based on observing their breath and movement, I can give proper advice. Sometimes students require more pranayama and meditation. Everybody gets different advice.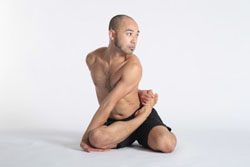 When deciding what to teach and how to teach it, I first determine the goal.  Then I take in account the capabilities and temperament of the student body.  From there, I give instruction and see how well they can follow.  I am constantly adapting to the situation. My goal is to empower and enlighten others so they can reduce the suffering they create for themselves and others.  I show people what they want to see, so they will listen to what I have to say.
Ricky Tran shares his passion for yoga and healing with practitioners all around the United States through weekend intensives, retreats and teacher trainings.  He's presented at the Texas Yoga Conference 2010 and 2011.  Ricky will also be presenting at Kripalu Center in November 2011, an international center for yoga and is quickly becoming a household name.
To learn more about Ricky and his workshops schedules, please visit his website at www.rickytranyoga.com.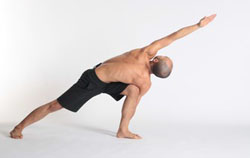 Ricky will be teaching The Goal of Yoga: Samadhi and Eternal Joy at The Yoga Collective on June 10th, 11th and 12th. Space is limited to only 40 participants.  Well, 38  technically since Kat Stimac, our Dharma Lounge photographer and I are attending.  Come join us for a transformative weekend!
The Yoga Collective: http://theyogacollective.com/
Until I write again!  Remember to Breathe in, Breathe Out!!! The magic starts there!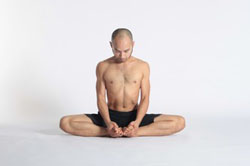 Images by Dylan Hollingsworth Photograph
y