Love!  How would you define it? Myriad textbooks, both academic and spiritual, have tried to pin down this elusive concept. However, the intellectual process always falls short when characterizing a concept that must be felt within each individual.  Once you've experienced love inside of yourself, then it only makes sense to extend that love to others in your immediate path and beyond.  For me, that feeling of love manifested itself through Bhakti Yoga, which involves the musical form, popularly known in the yoga community as Kirtan.
As a neophyte navigating the seas of the Bhakti movement, I felt it important to interview the notable Kirtan artist, Govindas, who has immersed himself in the devotional lifestyle of Bhakti Yoga and participated in its evolution in the West. Govindas and his graceful wife, Radha, who seems to embody the feminine life-force of Shakti with her extensive background in both dance and music, have produced and performed together on a number of Kirtan CDs. They are Co- Founders and Directors of Bhati Yoga Shala (BYS), a  Kirtan Yoga studio in Santa Monica that subsists purely on donations.  Bhakti Yoga Shala provides the space for LOVE to resonate into the community through a combination of yoga classes fused with Kirtan and performances by an array of local and traveling Kirtan artists, who come to share their devotional service through chanting.
After attending several Kirtan/concert events at BYS , I realized that I always felt "at home" there.  Both the audience and BYS created an atmosphere of unconditional love and warmth.  So, I was very curious about the philosophy behind Bhakti Yoga Shala and its creators Govindas and Radha.
ST:  I understand the growing movement of Bhakti in the West has a far longer history than the Yoga of "force" (hatha). In fact, the path of devotion (bhakti) has its roots in the mystical ritualism of the ancient Vedas making it over four thousand years old. What is the modern Bhakti movement all about?
Govindas: The Bhakti movement of today is about love: love for ourselves, love for mother earth, love for each other and love for the divine. It is the practice of giving everything that we are into the ineffable vastness of that love. It is about making LOVE the central core and radiant energy within everything that we find ourselves doing; chanting, doing yoga asanas, preparing our food or making love with our beloved. My guru, Neem Karoli Baba was quoted as saying, "Love is the strongest medicine."
ST: How did you and Radha become involved with Bhakti Yoga?  What were the circumstances that brought you together in offering your blend of kirtan?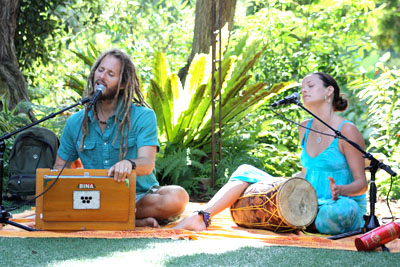 Govindas: I got connected to Bhakti Yoga through the older devotees of Neem Karoli Baba, specifically Ram Dass, Krishna Das, Jai Uttal and Bhvangan Das. In the mid 90's, a friend passed me a tape of a Ram Dass lecture.  Shortly thereafter, I was in the Jiva Mukti Yoga Studio in New York City and heard Krishna Das's chanting for the first time. Bhagavan Das and Jai Uttal were doing tours around Southern California. I had learned that these practices of Bhakti come from a great and ancient tradition in India. All of these people credited their guru, Neem Karoli Baba as their source of inspiration. The first time I heard Kirtan, it blew me away. It touched an ancient part of myself. The melodies, the rhythms, the interactive call and response format and music as a prayer really connected with me. I grew up Jewish and hated going to Synagogue, except for the times when the cantor would lead chants. This was my introduction to sacred music and it was the seed that grew into my love for Kirtan. A few years later, I went to India to stay at the ashram of Neem Karoli Baba to learn the traditional practices and ways of Bhakti. I bought a Harmonium, brought it back to America and started leading chants in my own yoga classes. This is where Radha and I met, fell in love and have been together ever since. What I didn't realize at the time was the power of her voice and that she had been studying music her entire life. In a very organic way, we would spend time singing mantras and Kirtan as a beautiful celebration of our love and God's love.
ST:   I've had the pleasure of hearing you and Radha perform in the Los Angeles area.  How has working together and partnering as a husband and wife affected your relationship?
Govindas: We spend a tremendous amount of time together:  we both love yoga, music and life itself. As anyone in a partnership knows, it's not always easy. Different feelings, opinions and styles present themselves frequently. Our commitment is to be compassionate and accepting through it all. And always remember the liberating power of Truth. There is a tremendous amount of fire in the path of love. The all consuming fire of love burns away everything that isn't serving the highest good.
ST:   Bhakti Yoga Shala was started in June 2009 in Santa Monica. It is rare to see a studio so philosophically devoted to Kirtan. What events gave birth to the studio?
Govindas: It had been a dream of mine for 15 years, to create a sacred space where people could come together to practice yoga, sing, dance and immerse themselves in the healing power of love. Radha used to take dance classes at the location we are currently operating the studio. We both fell in love with the space and noted that if it ever became available for lease, that it was the ideal space for Bhakti Yoga Shala. Six months later, the space opened up!
ST:   You've just finished your third Kirtan CD titled, "Kirtan Vibrations", and now you're busy with tour dates and the opening of Bhakti Yoga Shala, how do you and Radha balance your personal and professional lives?
Govindas:  Additionally, we are now parents to a seven month old baby boy named Malakai!  As any parent knows, that adds a whole new dimension of responsibility and busy-ness. Truly our path is our life and our life is our path. There is no separation. As a practice to keep perspective and remain continually inspired, we spend a lot of time outdoors with Mother Nature, hiking, surfing, on the beach, or in the mountains. Mother Earth is the greatest source of rejuvenation and nourishment.
ST:  Which song on the "Kirtan Vibrations"  best exemplifies your most memorable experiences in India while recording music for this CD?
Govindas: The Monkey Temple Chaleesa is a song of 40 verses dedicated to Hanuman, the great divine monkey. The melody for this song was inspired on New Year's Day in 2008, chanting in the Hanuman Temple in Varanasi. There were thousands of Indians bringing in the New Year together, with me, the only white person there.  We were all singing Shri ram jai ram jai jai ram, the energy was incredible. The air was fully charged with the highest frequency of devotion. The light inside all hearts present was alive. It was a very special moment in my life.

ST:  What was your most joyful moment performing as a husband and wife duo?
Govindas: On June 1, 2009, we opened Bhakti Yoga Shala with a 12 hour Kirtan, from noon to midnight. We finished the night with a chant to Goddess Laksmi, asking for the blessings of abundance and grace to be with us in this new adventure. It was a monumental time of giving birth to the healing sanctuary that is Bhakti Yoga Shala. In that final chant of the night,  our hearts sung with prayer.
ST:  If you could impart any important life lessons to others on their Bhakti path what would that be and why?
Govindas: Becoming a parent has really reflected the important things in life: our health, family and community. These things become the prime environment to practice our Bhakti, our devotion and dedication to living in harmony with Source. We are living in a world that is so hectic and goal orientated; we must all slow down. With all of the busy-ness, it is so easy to forget about our connection to Source, Mother Earth, our connection to each other.  Very commonly, we feel like we are not even living within our own bodies. Slowing down gives us the opportunity to practice mindfulness in the simple and mundane moments of life where we can meet the Sacred. The perfection of life, the flowering of life is always in the "here and now". We are all so busy trying to get somewhere, achieve something and be somebody. It's a mentality that is making us frantic as a culture. We must slow down and remember to feel the grace that is always here with us.
ST:  From your vast experience, both personally and professionally, how do you foresee Bhakti's transformation as it enters more mainstream society?
Govindas: People are yearning for a connection… singing and dancing together is a beautiful way to celebrate this precious gift of life. It seems as though this is the role Bhakti is providing as more people are touched by its power. We all need experiences where we can let down our hair, loosen up and let go. Kirtan, the heartbeat of Bhakti provides a healthy outlet for this release to take place. It seems as though people are really attracted to the high energy of the Kirtan experience.
ST:  For those who have yet to experience a Bhakti Yoga event, what message would you offer to them?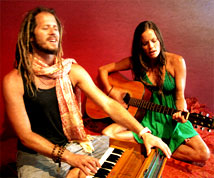 Govindas: Come with an open mind and open heart. The mantras that we sing come from a different culture.  To participate, we need to have an open mind and be willing to cross over cultural boundaries. If we are not of Indian/Hindu decent, the words in the mantras may be completely foreign to us. We must remember that this isn't some dogmatic thing. We aren't praying to some God outside of ourselves.  We are the love, that is who we are…  So we must be patient allow ourselves to be tuned into our own hearts and feelings. When our voices start to merge together, that's where the magic happens. The illusion of separateness starts to dissolve and we begin to remember that we are a part of the whole.
Govindas and Radha are California-based Bhakti yogis, Kirtan singers, and the founders and directors of Bhakti Yoga Shala in Santa Monica, California. They lead evenings of Kirtan, Bhakti yoga classes and workshops, and transformative retreats throughout the world. For more info go to: http://bhaktiyogashala.com/
Govindas and Radha have released three Kirtan CDs: "Endless Surrender Kirtan Experience", "Waves of Love", and "Kirtan Vibrations" .  More Kirtan CD's are due to be released soon.

Sony Trieu is a Yoga teacher and Thai Yoga Therapist, who specializes in Vinyasa, Yin and Restorative style classes and the application of ancient healing techniques. Sony is passionately committed to exploring and sharing healing modalities through her work and writing.