Dance is rooted in ritual. Whether to appease gods and goddesses or accompany a rite of passage, dance is a natural human expression conveyed individually or collectively.  At Egyptian funerals, women dance to express grief. In shamanic traditions, dance is a means of contacting the spirit realm.
In the 8th century BC, Greeks inaugurated the Olympic games with sacred dances performed by temple virgins to honor the gods— the modern Choros was originally such a dance. In the 6th century, dance became a centerpiece of Greek Theater.
The formalized hand movements of Indian priestesses in Hindu temples are described in documents as early as the 1st century AD. Each precise gesture is of subtle significance. This gave birth to Bharata Nhatyam, a form of classical dance based upon these hand movements. Today, it is still performed by highly skilled practitioners.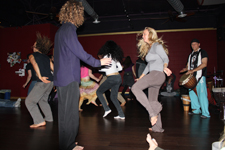 I have always watched and enjoyed dance as entertainment, finding the movements interesting. Growing up, I was ingrained with the fallacy that there was a RIGHT way and a WRONG way to dance.
Back in the day, I was less constrained, but still fearful of making "a fool" of myself on the dance floor. There was a brief time in my twenties, where I enjoyed the heightened atmosphere, frantic dancing, pounding rhythms and flowing alcohol of the club scene, but eventually I set dancing aside, reserving it for those proficient at performing its intricacies.
I have to admit that when I did freely "let myself go" through dance, the pulsations of my body and the racing of my heart induced a mood of frenzied exhilaration.
It was the closest I've ever come to ecstatic dance. [Read more…]