I was checking my Facebook account one morning, when I stumbled onto some incredible headstand pictures. The yogi in perfect balance was named Ricky Tran and his surname instantly connected us. Ricky and I shared a cultural history — we're both of Southeast Asian descent, specifically Vietnamese.
A Vietnamese Yogi? From my personal and academic experience (I minored in Asian American studies as an undergraduate) it's rare and uncommon for our "peeps," to boldly take a career path teaching Yoga.  Why? Because my culture tends to emphasize security. How are you going to survive?  That was the implied question behind the sighs and raised eyebrows whenever I dared to share my passion for teaching yoga or practicing Thai Yoga Therapy. Typically, our Vietnamese brothers and sisters are encouraged to take career paths which provide greater financial stability.  Employment in finance, business, engineering, the sciences and high tech sectors tend to be the preferred path.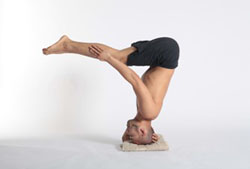 Trusting in my yogic senses, I felt a rebellious connection to Ricky. Even though he was based in Dallas, Texas and I was in Los Angeles, California, I took a leap of faith and sent him a message through Facebook, commenting on his breathtaking arm balances and headstand pictures.  From there, we sparked a connection.
Ricky's life paralleled my own family's experience.  We both had a similar "cross-cultural story of survival, reinvention and the transformational power of yoga."  Ricky's family was split by their emigration to the United States from war-torn Vietnam in 1979, then reunited in Dallas, TX in 1989. Due to the fall of Saigon, my family immigrated to the United States in 1972 and by 1978 had made Los Angeles, California our permanent home. Both Ricky and I were drawn to yoga and we had both become teachers. When I discovered Ricky was coming to Los Angeles to teach The Goal of Yoga: Samadhi and Eternal Joy at The Yoga Collective on June 10th, 11th and 12th, I knew I wanted to go.   What were the odds?  The universe does work in wondrous ways! [Read more…]