No one leaves a Wah! concert with a heavy heart, shoulders hunched, or feet shuffling. — Anna Dubrovsky
Does your name have an exclamation point in it?  Wah! does. Sure, I had heard of Wah!, but what's up with the name?  I found her name intriguing, so I did a little research and found that she received the name Wah! from a yoga master when she was 17 years old.
Wah! means bliss, and according to Wah!, she didn't have much "bliss" when she was 17 years old.
An English parallel to the name Wah!, would be "Joy."  In an interview, Wah! elaborated on the meaning of her name:  "The longer I have the name, the more I understand it. It wasn't until later that I explored where the name comes from, what its history is. It exists in every language. Even in English, the word "Wow" is this sound."
I attended my first WAH! Concert at Bhakti Yoga Shala, an intimate venue in Santa Monica that hosts a steady stream of Kirtan performers. Wow is the appropriate term to describe the experience of sitting in the front row, mesmerized, slipping into a hypnotic, then meditative state as WAH! shared her musical talents through Kirtan.
I arrived at Bhakti Yoga Shala to find a serpentine line of people quietly chatting with excitement, waiting outside the door, to see Wah! Inside, Wah! was on the electric bass completing the sound check with her bandmates,  Jeff Andrews on drum kit and Sequoia Neptune on Harmonium and back-up vocals.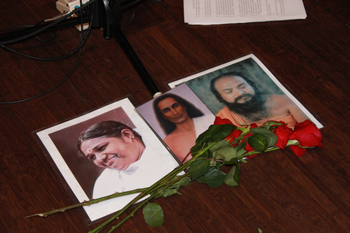 Prior to letting in the bevy of bodies waiting to enter the warmly lit studio, Wah!, along with Sequoia Neptune, kneeled on the floor in the prayer gesture (Atmanjali Mudra), and recited Sanskrit invocations to three photographs of prominent humanitarians and spiritual leaders.  Several rose stems were placed on the pictures with rose petals lovingly strewn over the photographs.  This small gesture offered me a deeper appreciation for WAH! Rather than Kirtan being just another concert or gig, her work was connected to her spiritual practice. Her gesture offered her service to a higher source. After witnessing this private ceremony, I felt a sincere respect for Wah!.
As the bustling people navigated through the studio to find the "prime" spot in which to hear Wah! perform. I could feel the wave of anticipation. The style of Kirtan she plays is referred to as Japa which means repeat. In Japa, there is a call and response where Wah! sings a line and the audience sings it back.
Wah! intricately weaved the human experience into her Kirtan, guiding all of us on a journey of self-love and acceptance through her music. Her spiritual approach to her music was inspiring and brought me back to the realization that we can collectively change our past and future karma through chanting.
The opening chant, Ganesha, can be found on Wah!'s latest CD "Love Holding Love", and is one of my favorites songs from her vast song collection.
Somehow, the three piece Wah! band felt larger and fuller.  With the masterful percussion of Jeff Andrews and the soulful backup vocals of
Sequoia Neptune, Wah! captivated us with her spiritual, Eastern-tinged sound.
In addition to her soothing voice and playful arrangements, Wah! seemed to have a an energetic aura that allowed the audience to slip into a trance state of "bliss."  When I stood up to get a sip of water, I saw a crowd with serene and placid faces, eyes closed, chanting with heartfelt voices, bodies soft and fluid, swaying rhythmically to the ambient swell of the music.
Wah!'s Kirtan, coupled with her loving spirit, provided an opportunity to radiate love and light.  The collective vibrational energy produced in the studio lasted several days for me.  I found it very healing. It was as if I had an internal massage, which assisted in chipping away of the "protective wall" around my heart, the one most of us build to guard our vulnerability so we won't be hurt or disappointed. In this open state, it's easier to face the emotions we fear will debilitate us, to accept ourselves.
I left Wah!'s Kirtan imbued with a lighter energy, the "wall" around my heart softer and more supple, knowing that in order to love; I'd have to risk being open, more vulnerable— accepting that with love, there is also pain.
As Anna Dubrovsky wrote in Yoga International, "No one leaves a WAH! concert with a heavy heart."  So when a Kirtan singer with the unique name of Wah! comes to your neck of the woods, enjoy the sound of pure bliss.
To learn more about Wah!', her concert tour dates and CDs, you can visit:  www.wahmusic.com.
Definitely check out her latest CD release Love Holding Love and listen to my three top picks from the album:  Ganesha, Unconditional and Heart Sutra Soulshine by clicking onto:  http://www.wahmusic.com/music_loveholdinglove.html.
Until my next Kirtan review, may your heart be strong and pure, allowing universal love and light to enter with every breath and song.
Kat Stimac is a photographer and yogi who specializes in detailed photographs of Flora and Fauna, landscapes, sky-scapes and textures. Kat applies the mindfulness of meditation to her photographic technique, capturing wildlife in unguarded moments of stillness or repose, stunning moments in time or breathtaking vistas to create a state of transcendence in the viewer.
Sony Trieu is a Yoga teacher and Thai Yoga Therapist, who specializes in Slow Flow Vinyasa, Yin and Restorative style classes and the application of ancient healing techniques. Sony is passionately committed to exploring and sharing healing modalities through her work and writing.